Press Release & Industry News
Viettel to make $2bn mobile investment in Myanmar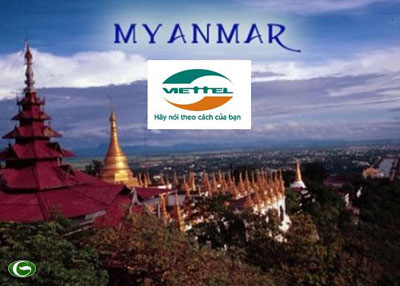 Viettel Group, a multinational telecommunications company run by Vietnam's defense ministry, is to invest $2 billion in a joint venture with local partners in Myanmar after securing a 15-year license -- the fourth and final mobile license to be issued in the country of 56 million.

Viettel had earlier sought to sink $1.5 billion into Myanmar National Tele & Communications, doing business under the Mytel brand. In Vietnam's largest overseas investment to date, subsidiary Viettel Global will take a 49% stake, while Myanmar's state-owned Star High will have a 28% interest and 11-company local consortium Myanmar National Telecom Holding will have 23%.

Mytel will provide 3G and 4G smartphone technology to a market where 60% of the population is expected to have mobile phones within a year. The company hopes to have 5 million customers inside two years and to offer coverage to 95% of the population by 2020, with the main focus on rural areas.
The new joint venture will compete with services provided by Norway's Telenor; Qatar's Ooredoo; and Myanma Posts and Telecommunications, which has partnered with Japan's KDDI and Sumitomo Corp.

Myanmar is the most populous foreign market Viettel has tackled so far. It failed to obtain mobile licenses there in 2013 and 2014. Fellow Vietnamese company FPT Telecom is already licensed to provide internet services in the country.

Mytel is reportedly spending $80 million to provide free internet access in some 5,000 public areas, including schools.

"We will build a nationwide modern telecom network in Myanmar and will try to quickly complete this infrastructure," said Le Dang Dung, a vice general director at Viettel. His company has invested $2.4 billion to date in 10 foreign markets in Asia, Africa and the Americas, and has been growing at a 25% annual clip. Viettel's overseas revenue contributed $1.4 billion to its gross revenue of over 256 trillion dong ($11.3 billion) in 2016.

Marking the 10th anniversary in December of his company's expansion overseas, Viettel General Director Nguyen Manh Hung laid out plans for doing business in 20 foreign markets over the next five years and for becoming one of the world's top 20 telecom companies.

Source: NIKKEI Asian Review