2016 Co-located events
Myanmar Sattellite Forum 2016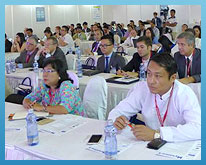 Addressing the challenges of broadcast and data services in a dynamic emerging economy

The third Myanmar Satellite Forum provides a platform for government, broadcasters and service providers to exchange ideas, develop relationships and build partnerships.

The Forum will be held on Wednesday the 7th December in the Novotel Max,Yangon and is an integral part of the CommuniCast Myanmar 2016 exhibition, where several leading satellite industry companies will be exhibiting, including Advantech, APT, Asiasat, Amplus and Network Innovations.

Complimentary Forum passes are available for nominated Myanmar nationals.
Platinum Sponsor:

Gold Sponsors: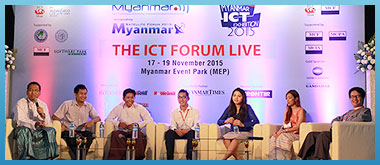 The ICT Forum Live! will address key issues facing the ICT and digital media industries, covering subjects from skills development & training for a digital economy to setting the platform for a digitally connected nation.
Organised by:

Myanmar Computer Federation
For more details, please contact:
Mr. Fraser Hawkes
Allworld Exhibitions
Diamond Centre (E) Pyay Road, Kamaryut township, Yangon, 11041
Tel: +95.1512.887
Fax: +95.1513.519
Email: fhawkes@oesallworld.com

HUAWEI Presentation
8 December 2016 / Morning Session
"Business - Driven ICT Infrastructure Enables New Industrial Revolution"
For more details, please contact:
Mr. Fraser Hawkes
Allworld Exhibitions
Diamond Centre (E) Pyay Road, Kamaryut township, Yangon, 11041
Tel: +95.1512.887
Fax: +95.1513.519
Email: fhawkes@oesallworld.com