2016 Product Highlights

The New Generation GaN based SSPAs/BUCs from Advantech Wireless provide an impressive 60% increase in Linear Transmit Power without any increase in size, weight or energy consumption. These systems are designed for Ultra HD transmission broadcasting and are DVB-S2X ready.
Enabling 4K Ultra HD Broadcasts with unmatched performance and quality.

Envisaged in 1986 AKSH OPTIFIBRE LIMITED has emerged as a leading global player and the world's only integrated manufacturer of Optical Fibre, Optical Fibre Cables, Fibre / Aramid Reinforced Plastic (FRP / ARP) rods and e-Governance for smarter living

Alpha Technologies provides power solutions for security, traffic monitoring, communications and data networks worldwide: UPSs, surge suppressors, enclosures, batteries, and services including installation and repair.
Amplus Communication Pte Ltd

AM-9341 Series Ku-Band BUC (16W GaAs, 25W, 40W GaN) provides high power density in compact size, is suitable for SOTM and DSNG applications. Designed for direct feed horn mount and operates at +48V DC with power consumption up to 280W, deployed in SCPC, DAMA and TDMA VSAT satellite earth stations.

APNIC (Asia Pacific Network Information Centre) is a membership based, not-for-profit, regional internet registry for the Asia-Pacific.
APNIC is responsible for distributing, registering IP addresses and related resources. APNIC's mission is "A global, open, stable, and secure Internet that serves the entire Asia Pacific community".
Asia Satellite Telecommunications Company Limited (ASIASAT)

AsiaSat 9 is AsiaSat's next generation satellite, planned for launch in early 2017 to replace AsiaSat 4 at 122°E.It will provide enhanced power and coverage for DTH, video distribution, broadband services across the Asia-Pacific. Besides a region-wide C-band footprint, it will also carry a dedicated Ku-band beam serving Myanmar

AVSystem is an expert in large scale device management and monitoring systems combining different devices (xDSL, Cable, LTE dongles, femtocells, FTTh ONT) and different protocols (TR-069, OMA LWM2M, OMA DM, SNMP, etc). AVSystem's key technology lets Telco Operators monitor the QoE of networks and services based on data collected, even every few minutes, directly from end-users' devices. 60+ large telcos worldwide prove the superiority of AVSystem's technology. Visit us to check out the latest trends in the managed world of connected devices!

Bookkaze Co.,Ltd. provides Digital Publishing software platform as a service for ebook,digital book,digital library,eBook Store,Corporate KM, Digital Catalog,Newsletter,User Manual,Brochure, School class material management etc. Bookcaze put an emphasis on easy-to-use concept,user can easily create and manage digital content anywhere anytime via Bookcaze Creation tool. Formore information please visit
www.bookkaze.com

Gigabit Passive Optical Network (GPON)
Dense Wavelength Division Multiplexing (DWDM)
Machine to Machine (M2M)
Green Power Supply System (GPSU)
Intelligent Networks (IN)
Next Generation Networks (NGN)
Network Management System (NMS)
Telecom Geo-Intelligence based solutions
Broadband Wireless solutions (WiFi)
Broadband Access Platform (GyanSetu)
Mobile Cellular Systems (CGRAN, LTE-A)
Chengdu Datang Communication Co., Ltd.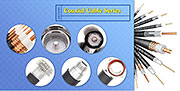 50ohm Corrigated copper-tube ciaoxial cable in High quality, best price, strong Technic supporting, full experience on dealing with operators.

OS: Android
Chipset: MTK/SC
Dual SIM
Screen: HD IPS
Camera: MPx (AF)
GSM/GPRS/EDGE
3G/3.5G/4G
T-Flash card
GPS, A-GPS
Wifi/BT/FM
Cohesive Technologies (P) Ltd.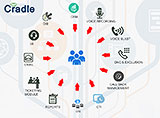 Cradle supports Modular Architectures, our modules of IVR/ACD/Dialer/Logger/Voice Blasters can be added on core module, Our Unified Communication solutions with Surveillance/Paging and Access Control is the unique offering.
Computer Science Corporation Limited

Zeeme is used to make Time Stamp by Selfie via Smartphone and checks Longitude and Latitude. It is available both iOS and Android. Other functions, for example Check Time Stamp transaction, Change Time Stamp flag (in-out), Payslip online are also available. Automatic integrate Time Stamp transaction with existing system.
eCast Technologies Pte Ltd

Cradle supports Modular Architectures, our modules of IVR / ACD / Dialer / Logger / Voice Blasters can be added on core module, Our Unified Communication solutions with Surveillance / Paging and Access Control is the unique offering.

Emtelle is a world leader in manufacturing complete Blown Fibre Solutions consisting of micro-ducts and all types of fibre cables to be installed into the micro-ducts. Thus Emtelle provide the complete FTTX/FTTH passive optical network solution as well as solutions for long haul, mobile backhaul and Metro networks.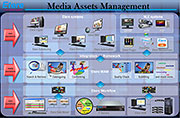 Etere MAM is an end-to-end software solution created to fully optimize the value of your assets through a centralized management of digital content and associated metadata. Its effective implementation both increases operational efficiency and return on investment of digital media.
Global Telecommunication Investment Holding Group Pte Ltd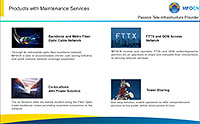 MFOCN is a passive telecom infrastructure service provider with aims to bridge the digital gap and enrich people's life through devotion and investment in Myanmar with products and Services as below:
Optic Fiber Network (Backbone&Metro)
FTTX and ODN Access network
Colotion with Power Solution
Tower Sharing
Maintenance and On-going Support Services

The P9 take smartphone photography and industrial design to a new level, as Huawei set new benchmarks in imaging and manufacturing excellence for a superior user experience and aesthetic. For the first time, P9 users are able to draw on the unsurpassed imaging capabilities of Leica, which is joining Huawei in a partnership to redefine smartphone photography. There are many photographers and customers taking so many excellent and amazing photos in Myanmar, Huawei P9 reinvented smartphone photography over the world.

InfinitGO has rolled out several successfully OTT applications across the region. The foundation of our solution is based on a modular approach that consists of an end to end media services as building blocks that are both flexible and robust to meet the different business strategies.

The Irdeto Cloaked CA Solution uses an innovative software security client as an alternative to smart cards for protecting digital TV content. The solution is designed for pay TV operators and broadcasters who want to offer digital services to their customers using a highly cost effective and future-proof conditional access solution with in-built security renewability.
Horizon PN4000 provides permanent anchorage to an user who has to constantly move along horizontal track. It is available in two versions - Over the Head (OH) & Over the Roof (OR). The system is versatile & is now tested for maximum 4 users. Thus making it a 100% reliable anchorage solution for users.
Motorola Solutions Malaysia Sdn Bhd
Motorola Solutions connects people through technology. Public safety and commercial customers globally turn to our innovations when they want highly connected teams that have the information they need in the moments that matter.
Customers rely on us for our expertise, services and solutions; trusting our years of inventor and innovation.
Myanma Posts and Telecommunications

MPT is the first and leading telecommunication operator in Myanmar, providing both fixed and mobile telecommunication services to individuals and enterprises. For over 130 years, MPT has been championing the development of the telecommunication industry in Myanmar.
Myint & Associates Telecommunications Ltd.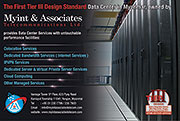 Myint & Associates Telecommunications Ltd offers data center and cloud computing services, IT managed services and total solutions with advanced technologies. M&A Data Center aims to provide services suitable towards various organizations and businesses that require the services of an internationally recognized and certified Tier III standard data center.

Network Innovations is a satellite communications integrator, focused in the provision and support of solutions that enable our customers to communicate anywhere on the planet.

Oxford Business Group is a global publishing, research and consultancy firm. OBG's economic and business reports are the leading source of local and regional intelligence. OBG's consultancy arm offers tailor-made market intelligence and advice to firms operating in these markets and those looking to enter them.
Planet Communications Asia Public Company Limited

PlanetComm utilizes the satellite transponder with Transmitting and Receiving Antennas, Satellite Antennas, SCPC/MCPC, Broadcast VSAT Satellites - TDMA, TDM / TDMA, FDMA, and Satellite Mobile Terminal for Communications. We are a distributor of worldwide vendors such as GD Satcom, Codan, CPI, Comtech, Viasat, Cobham, and Thinkom.
Plumettaz Singapore Pte. Ltd.

MINIJET is a light weight Jetting/Floating machine specifically designed to install thin jacketed FTTx cables with diameter 4 to 16 mm into duct with outer diameter ranging from 7 to 42 mm. Introduction and release of cables is easy and quick due to the concentric belt drive.

We are the leader in mobile multimedia solution. Core product and service for mobile application including Live TV, Video On Demand, Live Broadcasting and mobile advertising.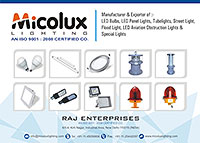 MFR & Exporter of All kind of LED Aviation Obstruction light, Flood Light, Street Light & Customised Lights.

SATIS-MONITOR is a HW and SW system especially developed for remote monitoring and control of SCPC and VSAT channel parameters and a wide range of equipment used as integral parts of satellite networks, such as satellite modems, amplifiers, converters, servers, networking equipment, UPS, airconditioning systems, power generators, etc.
Shanghai Grandway Import and Export Co., Ltd.

OTDR: Optical Time-Domain Refectometer.
Shenzhen FI-Cable Technology Co.,Ltd.

Optical fiber cable
Patchcord
Pigtail
Adaptor
Testing equipment of optic fiber
Fusion splicer
Shenzhen Hanxin Communication Optical Fiber Cable Co., Ltd.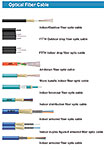 Earliest fiber optic cable Manufacturer in South area in China
High appraised Brand in Fiber optic cable Industry
One of largest fiber optic cable manufacturers in South Area in China
Installed with the best fiber optic patch cord machine in China
Installed with the best fiber testing machine in the world
Hanxin invested millions of dollars to establish national laboratory to do the test, such as salt spray corrosion test, burning test, tensile strength , torsion test, side pressure test, high and low temperature test.

WeBoost Connect 3G from Wilson Electronics
Strengthen Mobile Connections In Homes & Offices
Clearer calls and faster data connectivity
Longer battery life for mobile devices
Work on smartphones and 3G-enabled tablets
Supports Southeast Asian mobile networks
Provides coverage for multiple users
Tente Fibershow Group Limited
Fiber optic patch cords.

The BreezeCOMPACT is a TD-LTE suite of all-outdoor base stations for powerful broadband wireless connectivity. Telrad's advanced base stations provide optimized coverage and capacity in a single, easy-to-deploy, small-footprint box. The BreezeCOMPACT 1000 and COMPACT 3000 products are the ideal base stations for virtually any deployment scenario.
Birla Cable Limited (Formerly Birla Ericsson Optical Limited) is a premier company in the field of Telecom Cables, which offers one of widest portfolio of Copper and Fibre Optic cables under its umbrella and possesses all the required quality certifications.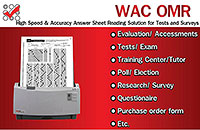 WAC OMR, top of data collection and answer sheet reading solution, is advantage of high speed, accuracy, flexibility, user-friendly and low-cost. No need assistants, expensive equipment, and special paper. This gives you 100% accurate scores and statistics and suitable for tests, assessments, evaluations, surveys, elections and other forms.
World Phone IT Services Pvt Ltd
"Mobi Credit-U is a comprehensive mobile enabled Credit Union core banking system. It combines a typical Credit Union platform and a typical Mobile Money solution facilitating Agent Banking module. It has been designed, developed and customized specifically to suit the small and mid-sized Credit Unions in emerging economies."
XPossible Technologies Pte Ltd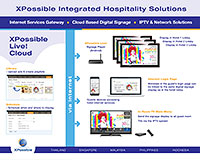 XPossible Technologies solution includes our XPossible Hotel Connect (HSIA Internet Management Gateway), XPossible Live! (Digital Signage) and APPSTV (IPTV). With our products integration, properties will now be able to broaden their digital signage display by pushing their desired contents to any guest's devices (etc mobile/laptop, including in room TV).
Xtend Technologies (P) Ltd.

Xtend Voice Logger is a multi-channel call recording solution that works in conjunction with analog, digital and VoIP telephone lines. Advanced features include user-friendly browser interface, multi-login facility, real-time call monitoring, full-fledged reports, phonebook, search options, autobackup, e-mail, export, advanced audio compression, encrypted and tamper-resistant storage etc.